With Leicester widely reported to have agreed a fee with Brighton for the transfer of Lewis Dunk, the logical conclusion is that they're prepared to allow Harry Maguire to leave for Manchester United.
We've looked at the StatsBomb data from the Premier League last season to determine whether these transfers are worth the large sums of money that are rumoured to be changing hands.
Maguire will add steel to United's back line…
With the Red Devils having conceded more goals last season than in any previous Premier League campaign, it's no surprise to see them prioritising defensive reinforcements this summer.
Maguire represents a clear upgrade in one of the more fundamental areas of defending, having recovered the ball more than five times per 90 minutes on average last term. This comfortably exceeds the rate that any of United's regular centre-backs were able to manage.
While Eric Bailly made more than four recoveries per 90 minutes, he was restricted to fewer than 700 minutes of top-flight action last season and it remains to be seen how soon he can return to being a first-team regular after missing the Africa Cup of Nations through injury.
With Chris Smalling having proven around half as prolific a ball-winner, his time at Old Trafford may be coming to an end.
… and also some class on the ball…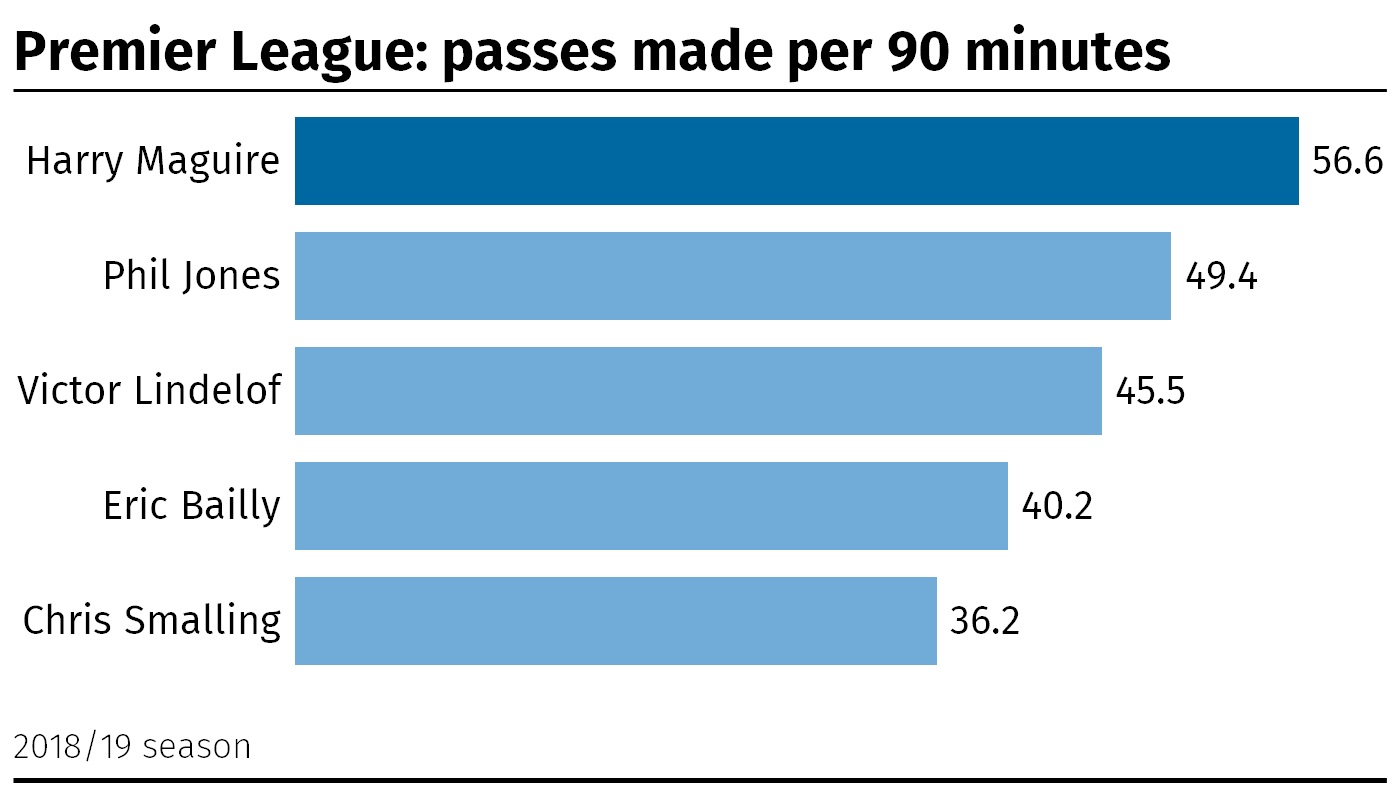 Maguire's large frame and 'slab-head' nickname mask a player who is proficient with the ball at his feet. Despite missing seven matches last season, he completed more passes than any defender not at a top-five club and would therefore offer capable distribution from the back.
Even when correcting for time spent on the pitch, the England international found a team-mate with the ball more often than any of the centre-backs currently in United's ranks.
… but he'll need to adapt to a different style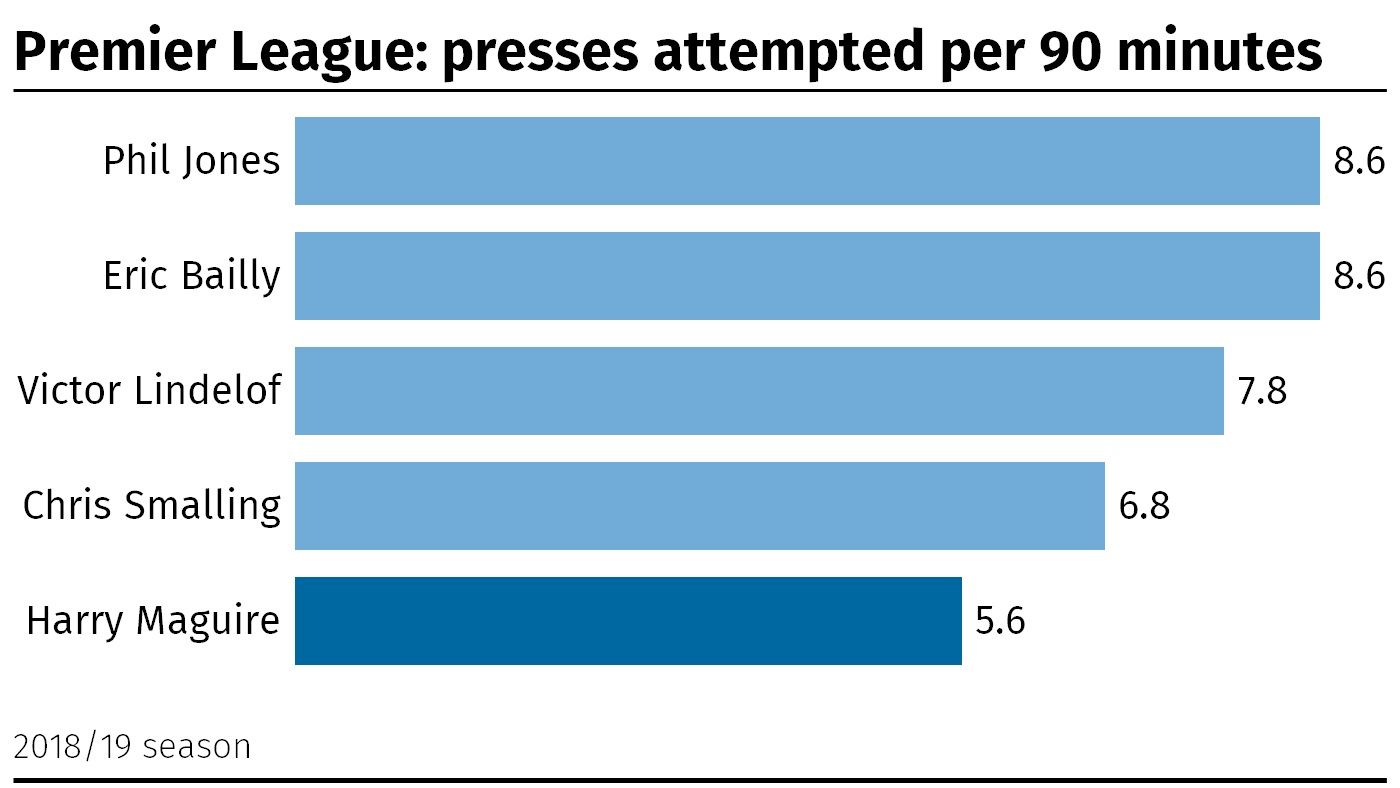 Despite Maguire's obvious promise as an upgrade on both sides of the ball, the numbers also suggest one aspect of his game which he'll need to work on should he move to Old Trafford.
Statsbomb's pressure data shows that Ole Gunnar Solskjaer likes his centre-backs to press opponents far more often than Leicester's, with Maguire doing so approximately three times fewer per 90 minutes than either Bailly or Phil Jones last season.
Would Lewis Dunk be a good replacement for Maguire?
Using the same metrics to compare Lewis Dunk with Maguire does not suggest an obvious fit.
Dunk passed the ball far less – around 17 fewer times per 90 minutes – although the difference in playing style between Leicester and Brighton will play a part here.
While Manchester United only attempted around 9% more passes than the Foxes last season, they in turn passed the ball 27% more often than the Seagulls.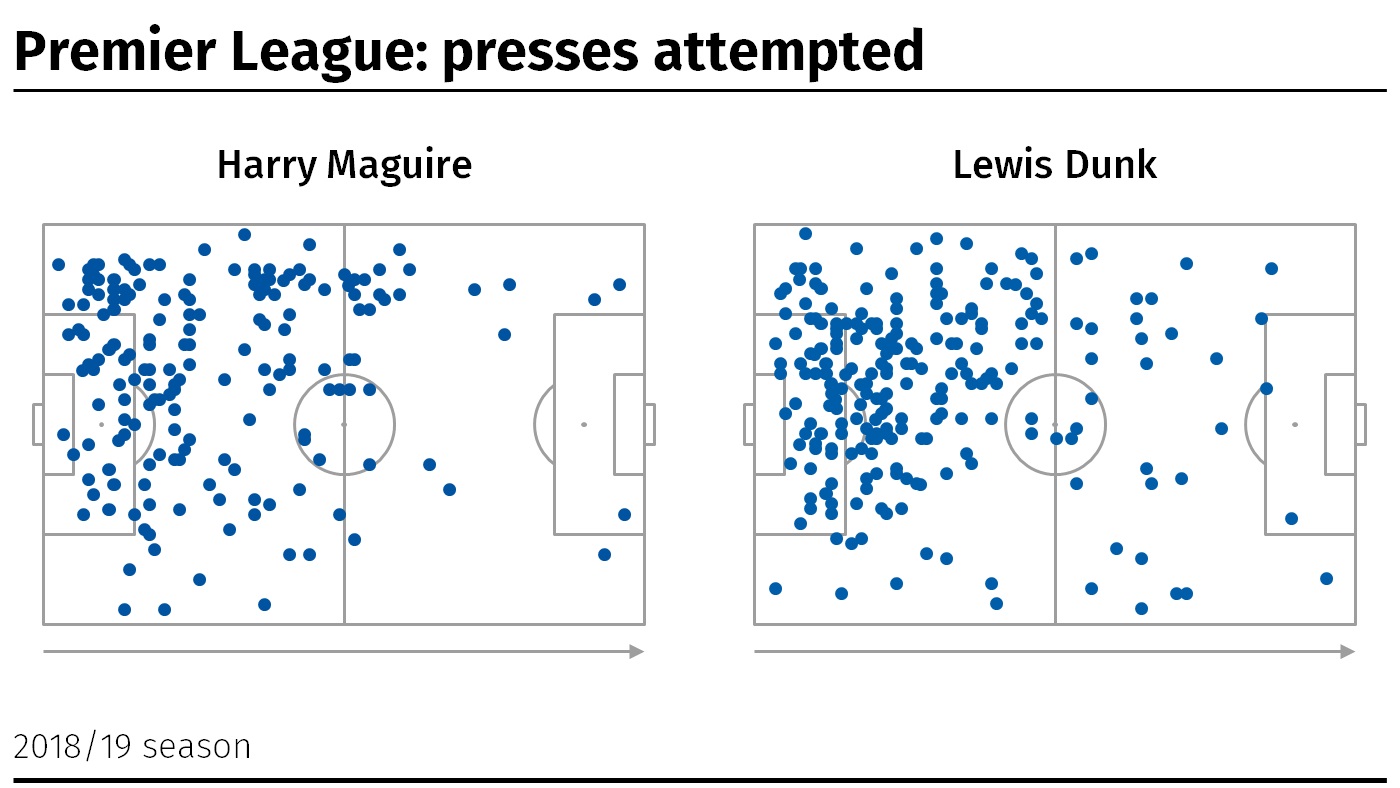 Dunk's 4.4 ball recoveries and 6.0 pressures per 90 minutes last term are more encouraging, as both are similar to Maguire's and suggest a good stylistic fit.
His deployment on the left side of central defence at Brighton – the same side that Maguire usually occupies – will also make it easier to incorporate him into the side.
Both players completed over two thirds of their pressing actions on the left side of the pitch, so this is not a habit that Dunk would need to unlearn.
VERDICT: With the highly-rated Aaron Wan-Bissaka already signed, the addition of Harry Maguire to the United back-line would certainly help improve on a dismal defensive record last season.
Ole Gunnar Solskjaer has been forced to splash the cash in a bid to reinvigorate the United squad which will be desperate to secure a return to Champions League football.
A top-four finish is well within United's capabilities this season.